America's Horse
August 31, 2011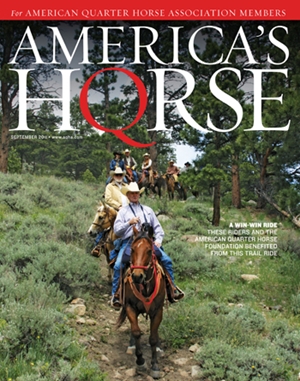 The September issue of America's Horse puts the spotlight on the American Quarter Horse Foundation, with a cover story on a scenic trail ride that benefited the Foundation and gave participants an experience to remember.
The Legends of the American Quarter Horse Trail Ride took place this year at Wagonhound Land & Livestock Co., just south of Douglas, Wyoming. Jim Jennings, AQHA's retired executive director of publications, shot photos that make the Red Angus, rock hills and great ranch horses come alive in the magazine's pages.
America's Horse goes to all members of the American Quarter Horse Association, and it's just one benefit of belonging to the Association. AQHA members also receive discounts, free online records, the ability to participate in AQHA shows and programs – and the pride of being associated with the Foundation, which provides funds for scholarships, equine research and therapeutic riding.
Other Foundation-related stories in the September issue are:
An introduction to a truly magical blind therapy horse in Florida. Children with disabilities relate to him and take heart in the fact that even with his disability, "Magic" lives in the real world, holds down a job and enjoys life. The Foundation funds similar facilities across the country and has awarded more than $400,000 to date.
Doreena Lunsford entered a photo of her horse, Skippin Doc Gold, in a Foundation Christmas card contest last year, and it changed her life. Her horse caught the eye of a trainer, who ultimately fit him for the Palomino Horse Breeders of America World Show, where he and Doreena placed third in amateur aged stallions in July. She is now an official ambassador for the Foundation, spreading the word about its work as far as she can.
Racehorse breeders Bob and Jerry Gaston made their own memorial donation in honor of Double Down Special, a 3-year-old champion gelding who set a world record at 400 yards and won the All American and Ruidoso derbies before his career was cut short by a fatal illness. To recognize the Gastons' gift, the Foundation will place a granite paver honoring "Double Down" in the Wall of Honor Plaza in front of the American Quarter Horse Hall of Fame & Museum.
The September America's Horse also helps horse owners develop better relationships with their American Quarter Horses. Enjoy an excerpt from AQHA Professional Horsewoman Lynn Palm's new book, in which she offers tips on working a horse at liberty.
AQHA Professional Horseman Ken McNabb finishes up his series on building a strong foundation with your horse by discussing the sidepass, which tests the control you have over your horse's body.
And more than 50 years after he first began publicizing his theories, Dr. Robert Miller discusses techniques for imprint-training foals.
View Photos of the Second Annual AQHF Legends Trail Ride at Wagonhound Ranch.
Read more at Americas Horse.