March 29, 2013
In the Limited Open Bridle division, Matt Kelly guided Genuine Chic Pleaser (Chic Please x Miss Shiner Dear), a 2007 gelding bred and owned by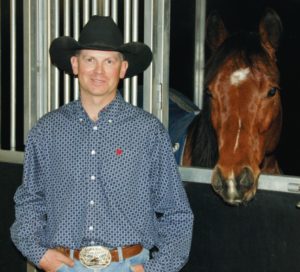 NRCHA Breeder Sponsor Wagonhound Land and Livestock, to a 279.5 (143.5 rein/136 cow) for the $1,300 Championship check. The title also came with a CR Morrison Trophy from the NRCHA.
Kelly has been a trainer at Wagonhound Land and Livestock for the past 10 years. He started Genuine Chic Pleaser as a 2-year-old. At that time, top National Reining Horse Association professional Andrea Fappani's customer purchased him. Genuine Chic Pleaser stayed in Fappani's training program for a year, and then his owner took him home and rode him until last year, when Wagonhound bought him back and Kelly started riding him again.
"He hadn't been on a cow until last year, at all," Kelly said.
Genuine Chic Pleaser took the accelerated training program well.
"He went from the ring snaffle, to the hackamore, the two rein and the bridle in less than a year," Kelly said. "He's come along real quick on a cow. He's been fun to ride."
This is Kelly's fourth year of showing reined cow horses, and he appreciates the knowledge gained from riding with as many top professionals as he can.
"I feel very blessed to be able to do for a living what I'm passionate about, and I love it," he said.