Quarter Horse News Magazine Excerpt
By Katie Tims
Everyone wants to be in the millionaire's club, and stallion owners are no exception. This year, two outstanding stallions joined the elite group of million-dollar reined cow horse sires. The first is Dual Rey, owned by Linda Holmes, with $1.2 million won by 58 foals. The second is Wagonhound Land and Livestock's signature sire, WR THIS CATS SMART, who has 74 offspring posting $1 million in winnings.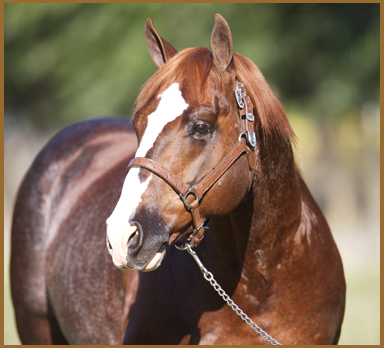 WR THIS CATS SMART
Pedigree, performance and progeny add up to the stallion who rounds out the million dollar reined cow horse list. WR THIS CATS SMART, a 1999 stallion, finished 16th on the list of all-time leading reined cow horse sires.
His leading performer Tuckers Smart Cat (out of Smoke Time Tuck, by Doc Tom Tucker), a 2007 gelding who California professional Lyn Anderson showed to $155,879. Tuckers Smart Cat debuted at the 2010 NRCHA Snaffle Bit Futurity, where he tied for ninth in the Open and topped the Ladies division. The gelding and Anderson Finished Reserve in the Open at the NRCHA Celebration of Champions Derby two years in a row, in 2011 and 2012. Tuckers Smart Cat kept a busy show schedule thorough this season, and along the way he has collected numerous victories and topped several prestigious hackamore, two-rein and bridle classes.
On the WR THIS CATS SMART roster, Sinful Cat (out of Sinful Playgirl, by Freckles Playboy) in the No. 2 earner. Todd Crawford started the stallion's career and the two finished 15th at the 2011 NRCHA Futurity. They came back to win the 2012 NRCHA Derby, and then showed to wins and top-three finishes at several major limited-age events for two seasons. Russel and Tanna Dilday purchased Sinful Cat last February, and Russell showed the horse to several thousand dollars more this year. Currently, Sinful Cat has $102,716 in lifetime reined cow horse earnings.
WR THIS CATS SMART was bred by Wiens Ranch Inc. in Colorado. The stallion was bred for greatness, having High Brow Cat – the performance horse industry's all-time leading sire – for a father. And his dam is nothing short of legendary. The Smart Look, by Smart Little Lena is the cutting industry's No. 2 all-timed leading dam with foals that have won more then $1.6 million. WR THIS CATS SMART is her third-highest-earning offspring.
WR THIS CATS SMART posted no winnings in his futurity year, but as a 4-year-old, he came to twon in a big way. Piloted by California showman Tim Smith, the young stallion won $43,720 in 2003 which included a tie for third place at the PCCHA Derby. WR THIS CATS SMART worked his way to $69,494 during the 2004 season. Then he returned for another busy and successful 2005 season, winning $104,480 that included a third-place finish in the Classic Open at the NCHA Super Stakes. WR THIS CATS SMART made the finals dozens of times at major limited-age events, but he concluded his stellar career by winning the Open finals at the 2005 NCHA World Finals. Said and done, WR THIS CATS SMART has $236,474 in lifetime cutting earnings.
Speaking of cutting, WR THIS CATS SMART is also a leading sire of cutting horses. Right now he is positioned at 26th on the list of all-time leading cutting sires, with 257 offspring that have won $21 million. His leading foal is Teles Bout This Cat (out of Teles Lies, by Lenas Telesis), the great mare that Cody Hedlund showed to $233,252. Among her many successes, Teles Bout This Cat won the Non-Pro Championship at the 2011 NCHA Summer Spectacular.
The other leading offspring of WR THIS CATS SMART are: This Kats Kool ($183,698); This Isa Stray Cat ($122,461); WR Jillaroo ($121,158); and One Gone Cat ($119,962).
For complete Quarter Horse News Magazine article click here.
For more information on WR THIS CATS SMART visit his stallion page by clicking here. Owned by Wagonhound Land & Livestock, standing at 6666 Ranch.