The Daily Cutter – November 2, 2012
The first class on Thursday morning held seventeen hopefuls in the $200,000 Limited Non-Pro Futurity. Riders may not have earned more than $200,000 in lifetime earnings showing horses.
The horses seemed fresh and distracted in the first herd, with several unconnected from their cows on the south side of the arena. However, Eric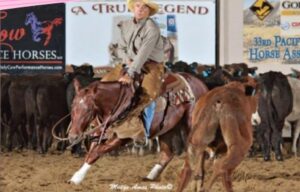 Freitas from Santa Maria, California, managed to pull off a pretty clean and focused run, marking a 216 on CAT FISHIN (WR This Cats Smart X Peppy Madonna) to grab the lead going into the Finals, set for Saturday, November 3rd.
Eric bought Cat Fishin at the Fort Klamath Futurity as a yearling at an auction, where the colt had been donated to support a fund-raiser. Morgan Cromer, who had originally spotted him at the sale, started him and has been working with the gelding ever since. Eric was born and raised in Santa Maria in a farming family. In fact, he is a third generation vegetable farmer and mostly grows broccoli. He showed in Western Pleasure classes as a kid and later rode reined cow-horses for about fifteen years. He be-came involved with cutting because he had "a cow-horse that wanted to cut."
Eric has three children: son Matthew who is in college, daughter Lauren who is attending medi-cal school and Michelle, a senior in high school.
Eric also finished first in the $100,000 Limited Category.