Challenge Accepted
Horses and riders compete for added money in the first AQHA Ranching Heritage Challenge of the year.
By Larri Jo Starkey
The American Quarter Horse Journal
January 18, 2013
In the limited open class, Matt Kelly rode This Cats King to the top spot for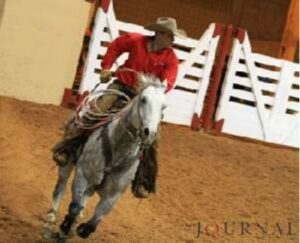 owner and breeder Wagonhound Land and Livestock of Douglas, Wyoming. This Cats King is a 2009 palomino gelding by WR This Cats Smart-Masterpiece Spark by Shining Spark.
"(WR This Cats Smart) has thrown some nice babies, and this is one of them," Matt said. "You can bring them to town and be proud of them, and they'll do every job there is to do on the ranch at home, too."
Though the gelding showed a powerful step in the arena, he has an easygoing personality, Matt said.
"He'll give you anything you ask for," Matt said, "but he doesn't give it to you unless you ask for it."
The palomino was started as a 2-year-old through the Colorado State University equine sciences program, he said, but the ranch bought him back.
The next AQHA Ranching Heritage Challenge is February 28 in Houston. Entries are due February 1.