Wagonhound Land & Livestock is the highest money-earning AQHA Ranching Heritage Breeder of 2019.
Ranching Heritage-bred horses are versatile, sound and willing American Quarter Horses able to perform well at a variety of tasks. These horses are produced by AQHA Ranching Heritage Breeders, which are working cattle ranches that have produced horses for at least a decade for use on the ranch.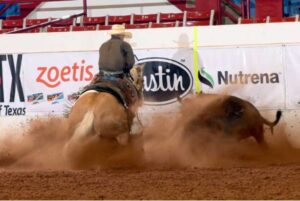 The AQHA Ranching Heritage program recognizes these horses and provides them a showcase with the AQHA Ranching Heritage Challenges, as well as Top RHB Horse recognition at various national events. Anyone can purchase and show a Ranching Heritage-bred horse.
Each year, AQHA recognizes the highest money-earning Ranching Heritage breeder by with a special award, and the leading breeder for 2019 was AQHA Best Remuda-winning Wagonhound Land & Livestock of Douglas, Wyoming.
All of the horses bred by Wagonhound, regardless of owner or rider, combined to rack up an impressive $23,589.50 in earnings in competition at Ranching Heritage Challenges and the AQHA Ranching Heritage Challenge Finals.
In recognition for its achievement, AQHA and partner Don Rich Saddles is presenting a new Don Rich Saddlery saddle to Wagonhound.
"We tip our hat to Wagonhound Land & Livestock for producing quality ranch horses year after year," said AQHA Director of Ranching Kim Lindsey. "The Ranching Heritage program is a great way for people to earn money on these ranch horses and demonstrate their versatile abilities."
Wagonhound's leading earner of the year was its own Shiner Dear Rey, who earned $8,977 in the 2019 Challenges. The 5-year-old palomino mare is by Reys Dual Badger and out of the Shining Spark mare Miss Shiner Dear.
Two additional AQHA Best Remuda winners filled out the top three positions on the leading breeders list, with horses bred by Burnett Ranches LLC of Fort Worth, Texas, earning $19,879.65, and horses bred by the W.T. Waggoner Estate of Vernon, Texas, earning $15,761.90.
Finishing fourth was past AQHA Ranching Heritage Breeder of the Year winner Box O Quarter Horses of Gordon, Nebraska. Box O's horses picked up $15,443.70. Fifth among the leaders was Fort Worth, Texas-based Moncrief Ranch, whose horses earned $14,941.50.
For more information about the Ranching Heritage program, visit www.aqha.com/ranching. 

AQHA News and information is a service of the American Quarter Horse Association. For more news and information, follow @AQHAnews on Twitter and visit www.aqha.com/news