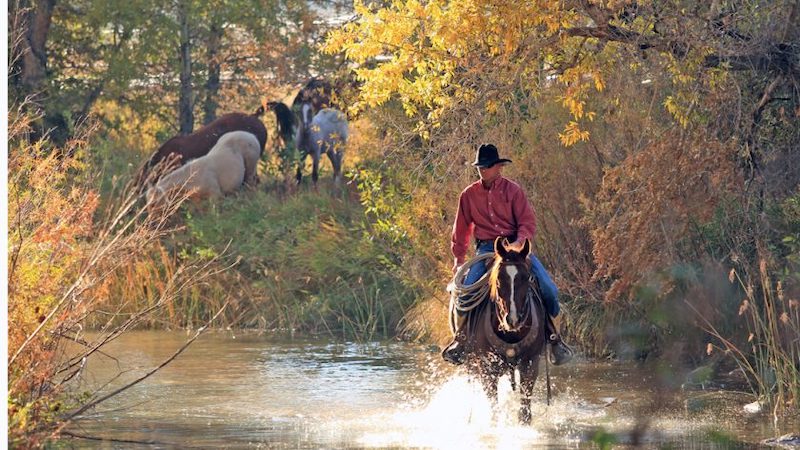 February 14, 2022
Quarter Horse News
A leading breeder in the reined cow horse industry was recently recognized by the American Quarter Horse Association for its success in the association's Ranching Heritage classes.
Wagonhound Land & Livestock, of Douglas, Wyoming, was recently named by the AQHA as the top 2021 Top Money-Earning Ranching Heritage Breeder of the Year.
Owned by Catherine and Art Nicholas, the AQHA Ranching Heritage Breeder and past winner of the AQHA Best Remuda Award bred horses who won $18,339.50 in ranching heritage classes. It is the third year in a row that Wagonhound horses have won the most money in these classes.
Wagonhound Land & Livestock's leading ranching heritage earner last year was Opus Cat Olena, who is owned by Box O Quarter Horses, and who earned $4,593.50 in the 2021 AQHA Ranching Heritage Challenges. The 8-year-old sorrel stallion is by Wagonhound's sire, WR This Cats Smart, and out of the Smart Chic Olena mare Opus Chic. 
The second place Top Money-Earning Ranching Heritage Breeder was awarded to the horses bred by Burnett Ranches LLC of Fort Worth, Texas, earning $5,751.50; and third went to horses bred by Bogle Brothers LLC of Dexter, New Mexico, earning $5,190.
Finishing fourth was Cowan Select Horses LLC of Havre, Montana. Cowan's horses picked up $5,130.50. Fifth among the leaders was Wayne, Oklahoma-based Circle C Ranch Co., whose horses earned $4,969.
Ranching Heritage-bred horses are versatile, sound and willing American Quarter Horses able to perform well at a variety of tasks. These horses are produced by AQHA Ranching Heritage Breeders, which are working cattle ranches that have produced horses for at least a decade for use on the ranch. 
The AQHA Ranching Heritage program recognizes these horses and provides them a showcase with the AQHA Ranching Heritage Challenges, as well as Top Ranching Heritage-Bred Horse recognition at various national events. Anyone can purchase and show a Ranching Heritage-bred horse.