Wagonhound is proud to sponsor the WCHA Wyoming Owned & Ridden Award.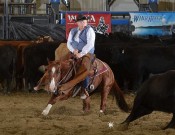 This award is something a rider strives for in their career, it is similar to a Horse of the Year Award that honors a horse and rider that has earned the most money throughout a given point year, but requiring that both owner and rider to be Wyoming residents makes it unique.
This year's honor is also special since the award was won by Hank True and Pistol Packin Tomcat, which is sired by Wagonhound's own WR THIS CATS SMART! Congratulations to this fantastic duo!