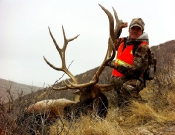 Bobby Labonte
2011 Wagonhound Hunt
Outdoor Channel to air 4 episodes of Realtree's Nascar Outdoors from Wagonhound Hunts.
First show Thursday, July 5th to feature Bobby LaBonte's Elk Hunt at Wagonhound.
"Renowned NASCAR Driver, Bobby Labonte, heads to the high-country of Wyoming, in pursuit of big bull elk in the rut."  Visit the Outdoor Channel Website for a complete show schedule.